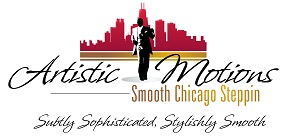 Profiles in Steppin'
There are quite a few extraordinary steppers across the country doing phenomenal things. The goal of Artistic Motions is to highlight them for you, allow them to share their perspective on this dance and what brought them to it, as well as share any current initiatives or events they may be promoting or are a part of. Take a look at the gallery of videos highlighting exceptional people doing exceptional things across the country, from surviving breast cancer to recording great music to Chicago Step to.
In this video gallery, you'll see profiles of the following people: recording artist Roszunn, breast cancer survivor Geney Warner of Los Angeles, California, music mixologist Darryl "DJ Chillnite" Clarke, promoter Aki Carter of Columbus, Ohio and Celebrate and Smile International featuring Dominick and Tiffany Barksdale of Louisville, Kentucky.